Volunteer Workdays have resumed
Olden Garden is open again to the public. Workdays are open to everyone, not just Garden members. New volunteers are welcome. Gardening experience is not necessary.
Come and volunteer on Tuesdays any time between 10am – 4pm
Or come to our next Saturday Workday, on 15 May, any time between 10am – 4pm.
You will need to bring your own gloves, face covering and hand sanitiser, and a towel if you wish to wash your hands. Remember to wear appropriate footwear.
You will also need to bring your own food and drink – we are not currently providing refreshments and use of the Garden House will be for our paid Gardeners only. Our accessible toilet will be open.
If you would like further information about volunteer workdays email oldengarden1@gmail.com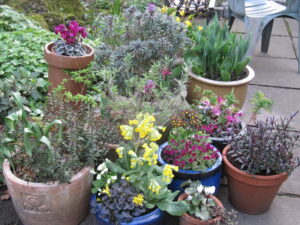 Latest Posts
We pruned clematis, wisteria and jasmine. We stemmed the tide of the three-cornered leek and created a cornus hedge from saplings donated by the Woodland Trust via the Mayor's initiative. And we gave the Garden House a spring clean!