Garden House, terrace seating area and lawn available for Events
Members and local community groups may hire the Garden House and terrace seating area, and the lawn if appropriate, for Events such as parties and meetings. The booking is not for the Garden as a whole as we do not restrict entry to other Garden members during an Event.
To enquire about making a provisional booking for an Event from the end of June onwards – contact Evelyn, our Membership Secretary, at oldengarden1@gmail.com
See the Events calendar for available dates after 21 June. All arrangements are provisional, dependent on Covid restrictions. We can accommodate no more than two Events (parties or meetings) per week.
Latest Posts
Come along to our volunteer workday – make new friends and join us for a coffee. We need more volunteers!
As a volunteer at our workdays you do not need to be a member. And gardening experience is not necessary; our volunteer gardeners will guide you. We will be open from 10am – 4pm.
Please remember to wear suitable shoes and to bring your own gloves; disposable gloves will be available. Our accessible toilet will be open. If you have any questions, or to let us know you or a friend might be interested, email oldengarden1@gmail.com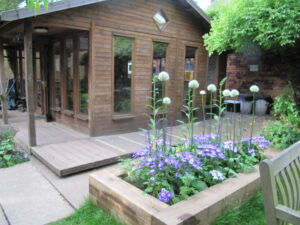 Events