Garden House, terrace seating area and lawn available for Events
Members and local community groups may hire the Garden House and terrace seating area, and the lawn if appropriate, for Events such as parties and meetings. The booking is not for the Garden as a whole as we do not restrict entry to other Garden members during an Event.
To enquire about making a provisional booking for an Event from the end of June onwards – contact Evelyn, our Membership Secretary, at oldengarden1@gmail.com
See the Events calendar for available dates after 21 June. All arrangements are provisional, dependent on Covid restrictions. We can accommodate no more than two Events (parties or meetings) per week.
Latest Posts
Our part-time gardener, Laura, has guided the development of Olden Garden during the last 10 years. At a small gathering last week, over a socially distanced cup of coffee and home-made cake, we thanked Laura for her involvement and commitment to the Garden. Laura plans to focus on her garden design business. We are sorry to see her go.
We pruned clematis, wisteria and jasmine. We stemmed the tide of the three-cornered leek and created a cornus hedge from saplings donated by the Woodland Trust via the Mayor's initiative. And we gave the Garden House a spring clean!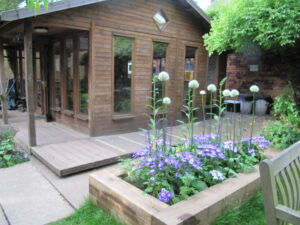 Events